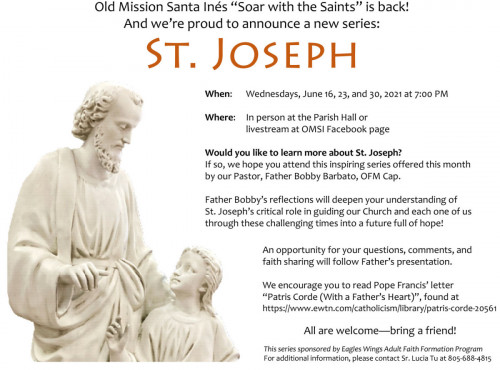 View: Our Facebook page News Feed
A Message from our Pastor, Fr. Bobby

"Teacher, do you not care that we are perishing?" Jesus' disciples turned to Him in the middle of a storm because He seemed oblivious to their plight. Once he had calmed the storm, he asked them, "Why are you terrified? Do you not yet have faith?" We were reminded of these words last year when Pope Francis prayed with all the world, a lonely figure in St. Peter's Square. As we experience the storms all around us these days, we may also want to ask the Lord, "Do you not care?" Each mass is His response: "This is my body, this is my blood, given for you." We ask Jesus for the faith to believe He is in our midst and walks with us in the storm.
This Sunday is Fathers' Day, and while we pray for all our fathers on this earth, we remember in a special way St. Joseph. This year is dedicated to him as patron of the church. Bishop Barron will be celebrating a special mass at St. Joseph Church in Carpinteria, and we pray with him as we gather once more without restrictions to honor God's gifts of grace given us through our Mother Mary and our Dear Saint Joseph.
TOGETHER IN MISSION: Please do not forget this vital campaign. If you have not done so, please make a pledge, using the envelopes in the church or by giving online at togetherinmission.org. Remember to designate Mission Santa Inés as your parish when making your pledge or contribution. Thank you.
We are grateful for the gift of coming together once more, but also perhaps more aware of the importance of caring for one another. May the Lord bless you all!  Fr. Bobby
Los Angeles Archdiocese - COVID-19 Update
"In this difficult moment, we ask God for his grace, that we might bear this burden together with patience and charity, united as one family of God in his universal Church."  Archbishop Jose Gomez.  Read a reflection on the pandemic from Archbishop Gomez...    
"Keep your eyes fixed on the outstretched arms of Christ crucified, let yourself be saved over and over again." Pope Francis
"Jesus keeps knocking on our doors, the doors of our lives. He doesn't do this by magic, with special effects, with flashing lights and fireworks. Jesus keeps knocking on our door in the faces of our brothers and sisters, in the faces of our neighbors, in the faces of those at our side."   Pope Francis