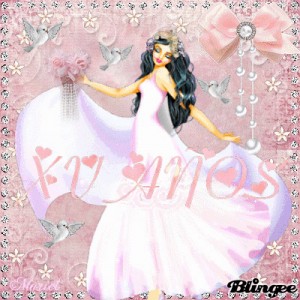 Requirements
Being Baptized

Having received First Communion

Be an active member of the parish

Maintain regular attendance at Sunday Mass

Quinceañeras Assist Program for six months (talks)

Attend Mini retreat for Quinceañeras

Dress appropriately for the Celebration
After the first interview or orientation with Deacon, Quinceaneras should contact the celebrant who want to celebrate their Quinceanera them to choose the date of the celebration, the office to make a deposit and reserve the church, with the Coordinator of the talks and the Coordinator of the liturgical celebration.
Talks for quinceañeras are offered every Tuesday during the meeting of the Group of Teenagers at 7:00 pm in the upstairs lounge. Please contact Mrs. Paty Aguirre tel. 735-2384.
Stipend for the Church: The Church is the fee to $ 550. Please make a deposit to reserve the church and bring the rest one month before the celebration. (This donation to the Church does not include the voluntary offering for the Celebrant to conduct the celebration).
Celebrant: Ministers of Mission Santa Inés will gladly Celebration. But we also accept some other ordained minister of their choice from another parish. If the celebrant belongs to another Diocese, make sure your permission for this parish is sent to our office no later than one month before the celebration. If there is any change of Celebrant during the course of the program, please contact the Celebrant assigned at least two weeks in advance.
Photographers: Photographers should contact the celebrant and follow the instructions during the celebration. It is forbidden to use flash photography inside the church.
Church arrangement: please speak with the coordinator of the Liturgy Carolina Meraz at 686-7904 or cell 588-0068 after the interview or orientation.
Music: To hire any of our Parish Choir please contact your coordinator / ra as soon as possible. Elvira Rojas and Solomon 688-3179, 688-1008 Paloma Uribe, Miguel Angel 245-8762, 245-1022 Angel Francisco Jesus Zarate 350-0547.
Flores: You can put flowers on each side of the altar and leave them in the church for Sunday Masses. You can make arrangements with any florist. Please do not send flowers the day before the Quinceañera. It is not allowed to put decorations on the pews with ribbon. For more questions, talk to Carolina Meraz.
TO MAKE AN APPOINTMENT FOR AN INTERVIEW OR GUIDANCE, PLEASE CONTACT THE PARISH DEACON Ancelmo Aguirre
THE PHONE 688-4815 X 14.