"For where two or three are gathered together in my name, there am I in the midst of them." Matthew 18:20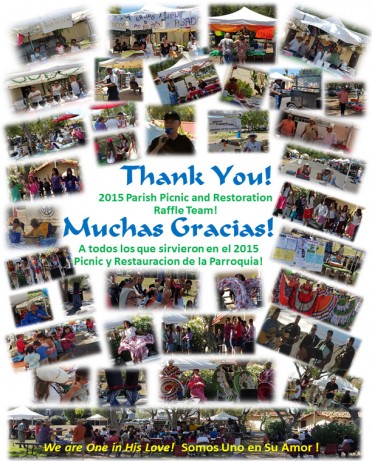 Each summer, parishioners come together for an afternoon of fun, entertainment and fellowship at the Parish Picnic. The picnic is a parish-wide celebration and is for parishioners of all ages.
The picnic is the final event of our Mission Restoration fundraising drive that begins in June. Raffle tickets sales begin in June and are available to the public. Several Early Bird prizes are also drawn beginning a few weeks before the event. At the picnic, the raffle's grand prizes are drawn from the tickets sold within the parish and the community.
"Good people,
I want to express my heartfelt gratitude for your support for of our parish picnic; 'We are One in His Love.' We are truly united in His love as we joined together to share our time, talent and treasure.  In addition, the various ministries and committees represented our spirit of spiritual and corporal works of mercy to the parish and wider community.  And, through God's goodness we have a very tangible result. I am honored to announce that we netted $12,000.00 for the Mission Restoration/Maintenance needs of the mission!" 
Fr. Matthew Elshoff, OFM, Cap., Pastor
Local Businesses who contributed to the success of our 2015 Restoration Raffle and Silent Auction
Alisal Golf Course
Atterdag Village Serendipity Shoppe
Bella Cavalli Winery
Birkholm's Bakery
Brothers Restaurant at the Red Barn
Coastal Copy
El Rancho Market
Fresco Valley Cafe
Hanson's Clock Shop Jewelers
Hitching Post Restaurant
Jim Vreeland Ford
J. Woeste in Los Olivos
New Frontiers Natural Marketplace
Old Mission Gift Shop
Paula's Pancake House
Picket Fences
Rob Rosenberry Physical Therapy
Solvang Toyland
Todd Pipe
Valley Hardware
Valley Nails & Spa
Valley Tool Rentals
Viking Garden Restaurant
Viking Press Printing
Vinhus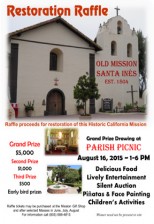 Everyone is a winner as each raffle ticket also includes a coupon for 10% off purchases from our local ticket sponsors.  Parish ministries volunteer to work with the restoration raffle ticket campaign or the picnic or both. Proceeds from restoration raffle and food items that are sold at the picnic go towards the restoration donation. Last year, over $15,000 was raised for restoration work at the mission. Winners of the raffle's grand prizes are drawn from the tickets sold within the parish and the community.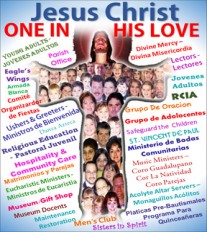 The Restoration Raffle and Parish Picnic leadership team is formed in April and selectes a theme for the team. This year's team theme is "One in His Love" from 1 John 4:7-21 - which is about God's Love and Christian Life.
The goals of the team are:
Spiritual growth and guidance
Fellowship event for all parishioners
Celebration of parish diversity and unity
Fundraiser for mission restoration
If you would like to volunteer or be a sponsor for next summer's Parish Picnic - please contact the Parish Office and let them know of your interest.
Below are some photos from our Parish Picnics: