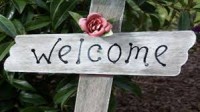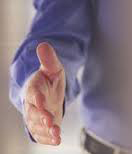 Give each other the handshake of Christian love. Peace be to all of you who are in Christ. 1 Peter 5:14
Greeting visitors and parishioners as they enter church is the key role of the Greeters Ministry who are part of the Hospitality Ministry of Old Mission Santa Inés. As visitors enter a new church, they may feel excited,  anxious, unsure about what to expect. Greeters have the opportunity to set a welcoming tone of friendliness and help all feel welcome.
Greeters have an opportunity to express God's love through a smile and a handshake and help set the tone of the upcoming Mass. Greeters often provide the first human contact or the first impression that a visitor receives when entering Old Mission Santa Inés. For first time visitors, a warm welcome and acceptance is one of their most important experiences in their journey to Christ.
A greeter provides more than just a handshake to those entering the church.  Greeters offer personal warmth and a friendly, welcoming manner through a smile, eye contact and taking the opening conversation initiative to welcome all. Greeters also help visitors with questions and invite them to go inside the church.
Greeters arrive 15-20 minutes prior to Mass and greeting people before and after the Mass is over.  At the end of Mass, they distribute the weekly parish bulletin and thank visitors for joining us to worship.
Greeters must be a registered, active member of Old Mission Santa Inés and have a commitment and positive attitude to providing hospitality and assistance to others.
Come join the Greeters Ministry and be prepared to greet and welcome all those who enter the doors of our parish community!