Our Mission Statement:  
We the people of Old Mission Santa Inés, following the path of Jesus Christ, 
are making His vision a reality through love, unity, justice, joy and hope.
Parishoners of Old Mission Santa Inés strive to faithfully practice the values and ideals in our mission statement by serving others in many missions and ministries inside and outside the parish and by our daily actions. Our parish is a rich mix of gender, age, ethnic origin, language, cultural, socio-economic, marriage status and other diversities that enriches all of us and makes us a unique parish of the Archdiocese of Los Angeles. Since the founding of the mission, Masses have been celebrated in multiple languages.  Today's Masses are celebrated in English and Spanish and most Holy Day and other celebrations are bilingual.
Since our church is a national historical landmark registered with the National Park Service and we are located in a popular tourist destination town, we welcome many visitors from around the state, country and world to worship with us at mass. Our diversity makes Old Mission Santa Inés a special place of worship to practice our Catholic faith and share the light of Christ with many.
We are blessed to have our Pastoral Team (see list below) led by Fr. Michael Ronayne, our Pastor. The Capuchin priests bring their unique spiritual gifts and inspiration to our parish. They are from different backgrounds, experiences and years as a priest and religious. They serve our parish with spirit, vigor and strength that only comes from a Holy Spirit inspired understanding and love of their faith and people. Each mass, they deliver divine inspired messages full of love, unity, justice, joy and hope that are inspirational and renewing to many. Deacon Anselmo Aguirre assists priests in the Hispanic masses and ministry.
Our Religious Education program is blessed and strengthened with the service of religious sisters from the Sisters of the Society Devoted to the Sacred Heart  Sister Carmen Acosta serves as the director of Religious Education for children through middle school. Sister Virginia Stewart leads the confirmation program. Sister Lucia Tu serves as coordinator of Adult Sacramental Preparation and R.C.I.A.as well as Eagles Wings and infant baptisms. 
Our Pastoral Team
Fr. Michael Ronayne, OFM, Cap. (ext. 223)
Fr. Moses Khisa, OFM, Cap. (ext. 224)
Fr. Peter Banks, OFM, Cap. (ext. 227)
Fr. Robert Kose, OFM, Cap. (ext. 238)
Deacon Ancelmo Aguirre (ext. 225)
In Residence Br. Lance Love, OFM, Cap. (ext. 252)
Sr. Lucia Tu, SDSH (ext.228)
Sr. Carmen Acosta, SDSH (ext.241)
Sr. Virginia Stewart SDSH (ext.226)
Sr. Diane Heiss SDSH
Sacred Heart Convent: 805/688-6158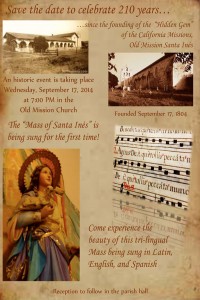 On September 17, 2022, the parish of Old Mission Santa Inés celebrated 218 years since the founding of the mission with a Founders Day mass. The celebration began at 7:00 PM in the Old Mission Church celebrating the "Mass of Santa Inés" sung in Latin, English and Spanish for the first time at the mission. The entire Santa Ynez valley community was invited to join us for this joyful celebration of our cultural heritage. The celebration continued with a reception in the Parish Hall following the celebration mass.