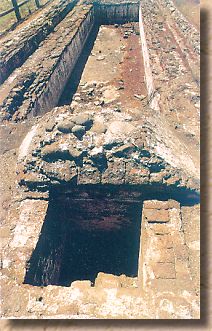 The lavenderia (laundry), where Indian women washed their clothes, is preserved today on the Mission grounds.
During this period of political change, building at the Mission continued. Between 1818 and 1820, the interior of the church was decorated with the 14 paintings of the "Way of the Cross"; in 1820, a gristmill was erected of masonry for grinding corn and wheat, and reservoirs were installed. In 1821, a fulling mill for cleansing wool cloth woven at the Mission was constructed of burnt brick and in 1823, a building for storing all kinds of equipment needed by the vaqueros (cow-herders) was erected.
The Mission attempted to increase its income by selling the hides and tallow from cattle for basic domestic materials and money to pay the Chumash for their labor. This trade was considered illegal by the Spanish government in Mexico which restricted trade to only approved Spanish traders.