The Christmas Basket program is designed to reach those who are experiencing the greatest financial challenges at this special season.  It is open to those families who have minor children (12 years of age and under) that live in the Santa Ynez Valley only (Solvang, Buellton, Los Olivos, Ballard, and Santa Ynez). Applicants must demonstrate need, and may not be a participant in any other program.
2021 Christmas Basket Program Details:
Applications are available at Old Mission Santa Inés Parish Office starting October 1st - 25th.
Application Submission and Interview Dates:
Friday, October   15 -      3 PM - 6 PM    Lower Conference Room
Friday, October   22 -      3 PM - 6 PM    Lower Conference Room
Friday, October   29 -      3 PM - 6 PM    Lower Conference Room
Applications are due by October 29, 2021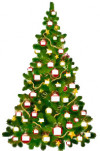 Families available for "adoption" starting November 14-28, 2021 - Select names on Jesse Tree in back of church or contact suemeglio@gmail.com 
Deliver baskets to the Parish Hall - December 13th and 15th - 10AM to 2PM
Help is needed in the Parish Hall - December 13th-17th 10AM to 2PM - sorting, wrapping, organizing
Distribution of gifts - December 17th from 1PM to 5PM  
Baskets must be picked up by the applicant on Friday, Dec. 17th (NO EXCEPTIONS). 
How can you help? 
1. Sponsor a family!   
2.  Make a donation to supplement the food baskets & gift cards given to each family.  (Please do not bring miscellaneous gifts)
3.  Sign up to help Dec 13-17.  email:  suenbruce@verizon.net or mmcoyle61@gmail.com
For more information, contact:
Susan Megliola 805-245-2809  suemeglio@gmail.com
Anali Bazan 805 245-2880
  Barbara Allen 805 245-0316  
The Christmas Basket Program is an annual community event coordinated by the Old Mission Santa Inés and the St. Vincent de Paul Society.  Every year we bring together many Santa Ynez Valley organizations, businesses, churches, and individuals to provide "Christmas" for struggling Valley families who might otherwise go without.

Families in Need:
Recipients must be residents of the Santa Ynez Valley (Solvang, Buellton, Santa Ynez, Ballard, or Los Olivos). The program is open to families with minor children who are struggling financially and are unable to provide for their families at Christmastime.  Applications to participate in the program are available beginning September 21st. During the month of October, completed applications are turned in during the times listed below. Families are notified of acceptance to the program in the first week of November.
Each family receives not only a large hamper of food, staples, and toiletries but also a large decorated box filled with wrapped presents for each family member, as well as a gift card for a local grocery store and fresh chickens donated by El Rancho Market.
For those wishing to "adopt a family" in this program, family descriptions noting age, gender and size are prepared and placed on a "Jesse Tree" at the back of the Church starting in late November.  Families are "adopted" by local businesses, organizations, families, or groups. Those who adopt families then shop for presents for each family member with an emphasis on the children. Providing not only toys, but warm clothing, and household items. They then wrap the presents and prepare their gift boxes (which we provide) and return them to the Parish Hall at the Old Mission the Tuesday and Wednesday of the basket distribution day. Our volunteers then organize the boxes and prepare the food hampers that accompany each box.
Adopt a Family:
There are many ways for people to help.  We need financial donations to assist in the purchase of food for the food hampers.  All donations are tax-deductible and all funds go directly to the families. There are no administrative fees. We need individuals, groups, or organizations to adopt families. We also need volunteers to help wrap, organize, and prepare the gift and food baskets.
For information please contact
Susan Megliola 805-245-2809  suemeglio@gmail.com
Anali Bazan 805 245-2880
Barbara Allen 805 245-0316  
Helping Families Gallery