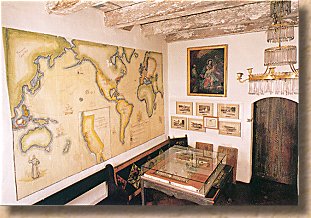 The Santa Inés Mission Museum houses a collection of vestments, artwork - paintings and statues, documents and manuscripts, and artifacts and bells that were used in and around the Mission throughout its history. The Museum's existence is due in large part to the care given to the Mission art and artifacts by Father Buckler's niece, Mamie Goulet. It was through her twenty years of effort (1904 to 1924) that many items were cleaned, repaired, and restored to their original beauty.
Repair and restoration work on the Museum building took place during Father Timothy O'Sullivan's term (1950s-60s). Partitions, doors, and window frames were removed to allow the reopening of original doorways that had been sealed. The original tile floor was exposed after wooden flooring was removed.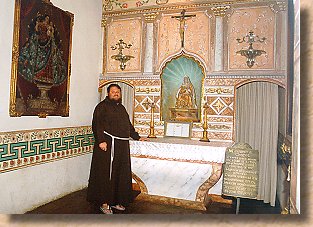 The Chapel of the Madonnas - Father Timothy also removed a low concrete bench-wall under the front corridor, which had been built by Father Buckler. The museum rooms were repaired, plastered, and rewired. New exhibition cases were provided to safely display the valuable vestments, artwork, irreplaceable Mission-period documents, and other historic artifacts. The Chapel of the Madonnas (pictured here) adjacent to the museum was created during this time.