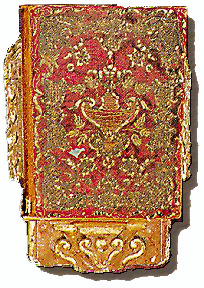 The six music manuscripts that survive from the Mission period in the Mission Santa Inés Archive are important testaments to the musical activity of the Franciscan friars and the Native Americans who used these manuscripts for the Mission choir and orchestra. The surviving music manuscripts give us a glimpse of the importance of singing at all of the Missions.
The six manuscripts and fragments of the originals are but a part of the choral library of the Mission. The musical content is primarily plainsong, also called Gregorian chant, which is one-line, homophonic music sung to Latin texts. The beautifully produced manuscripts exemplified the book production practices used by the Roman Catholic Church since the Middle Ages.
Pictured below is a Mission music manuscript of a Gregorian Chant, dating from 1841.