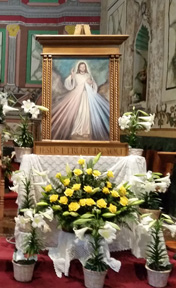 At Old Mission Santa Inés we are blessed with a Divine Mercy Cenacle group that prays the Divine Mercy Chaplet each weekday morning and meets weekly as a Christian community to grow spiritually and gain a deeper understanding of God's will for each of them and how, through the teaching of Holy Scripture, the Catechism of the Catholic Church and Saint Faustina's Diary, their lives can be transformed.
The Divine Mercy Cenacle's goals are:
To spread the Truth of God's Mercy to the whole world
To strive for Christian perfection through trust in God and showing mercy towards our neighbors
To know and proclaim the mystery of God's mercy
​To support Catholic Mission around the world
Weekly group meetings include prayer, studying from a lesson guide, reading and discussing various sections of Saint Faustina's Diary, Holy Scripture, and the Catechism of the Catholic Church. Readings from other Catholic authors may also be read and studied.
Everyone is invited to join the group.  There is no "registration" or "signup" - just drop in. Come and See!  Meeting schedule and group contacts are listed to your left.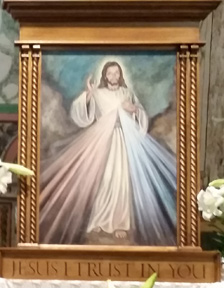 The Divine Mercy Chaplet came about in the 1930's as a special devotion written in a 600 page diary by a young Polish nun who would later become St. Faustina, began spreading throughout the world. In the diary, she recorded the revelations she received about God's mercy in a vision. The first element of the Devotion to the Divine Mercy was revealed to St. Faustina on February 22nd, 1931 when Jesus appeared to her with rays radiating from His heart. He asked her to paint an image according to the pattern she saw with the signature: Jesus I trust in You.
Jesus promised that the soul that venerates the image will not perish and have victory over any enemies on earth and at the hour of death. Jesus offered a vessel his image to people and asked that they keep coming for graces to the fountain of mercy with the words: Jesus I trust in You.
In the image, the two rays coming from the very heart of Jesus' tender mercy when the lance pierced his heart while he was dying on the Cross. The rays represent the Blood and Water. The pale ray stands for water that makes souls righteous and the red ray stands for the Blood which is the life of souls. The beauty of the image lies not in the colors but in the grace that Jesus gives.
The message that the Church teaches through scripture and tradition is that God is merciful and forgiving. We accept His mercy with thanksgiving and are merciful as He is merciful by showing mercy and forgiveness to each other. The Divine Mercy devotion calls people to a deeper understanding of God's love. That His love is unlimited and available to everyone — no matter how great our sins. He wants us to recognize that His mercy is greater than our sins, so that we will call upon Him with trust, receive His mercy, and let it flow through us to others. These actions will help us grow as genuine followers of Christ.
All will come to share His joy. It is a message we can call to mind simply by remembering ABC.
A — Ask for His Mercy. God wants us to approach Him in prayer constantly, repenting of our sins and asking Him to pour His mercy out upon us and upon the whole world.
B — Be merciful. God wants us to receive His mercy and let it flow through us to others. He wants us to extend love and forgiveness to others just as He does to us.
C — Completely trust in Jesus. God wants us to know that the graces of His mercy are dependent upon our trust. The more we trust in Jesus, the more we will receive.
"Blessed are the merciful, for they shall obtain mercy" (Mt 5:7)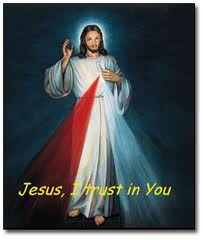 Living the Message of Mercy comes from the gospel command, "Be merciful, just as your Father is merciful."  Showing mercy to our neighbors "always and everywhere" seems impossible to fulfill. But the Lord assures us that it is possible. "When a soul approaches Me with trust," He explains, "I fill it with such an abundance of graces that it cannot contain them within itself, but radiates them to other souls" (Diary, 1074).
What are the Works of Mercy?
Corporal Works
Spiritual Works
Feed the hungry
Give drink to the thirsty
Clothe the naked
Shelter the homeless
Comfort the prisoners
Visit the sick
Bury the dead
Teach the ignorant
Pray for the living & dead
Correct sinners
Counsel those in doubt
Console the sorrowful
Bear wrongs patiently
Forgive wrongs willingly
Our actions, our words, and our prayers "radiate" God's mercy to others. We have all been called to this threefold practice of mercy, but we are not all called in the same way. We need to ask God, who understands our individual personalities and situation, to help us recognize the various ways we can each show His mercy in our daily lives. By asking for the Lord's mercy, trusting in His mercy, and sincerely trying to live His mercy in our lives, we can assure that we will never hear Him say of us, "Their hearts are far from Me," but rather that wonderful promise, "Blessed are the merciful, for they shall obtain mercy."
"Let your life "shine before people, so that they will see the good things you do and praise your Father in
Heaven" (Mt 5:16).
Click on this image for instructions to pray the Chaplet of The Divine Mercy.