A Message from our Pastor, Fr. Michael Ronayne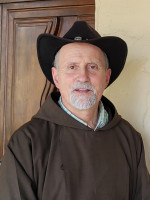 Little seeds grow into great things if we help. The Forest Service supplied our neighbors and us with pine seedlings. We reforested areas hard hit due to insects, drought, and neglect. The pine seedlings were tiny, like transparent butterflies. Very delicate, they required daily care and protection. They grew quickly but still needed daily or weekly attention. After a few years, they were on their way but still needed protection from various pests. God willing, the planted pines will grow almost 200 feet tall and last centuries. Delicate beginnings-big results.
Jesus says we have the seed of faith-we are baptized! Though small at first, it is powered by the Holy Spirit! As parents, god-parents, relatives, and friends, we must protect and nurture the faith, especially in new Christians. Do we pray and encourage one another? Do we pray and read scripture and receive sacraments in order to grow faith? Do we give testimony to others to grow their faith? Do we avoid spiritual weeds and toxins that cripple and kill faith? Do we engage in ministry so that others are drawn to faith?
Faith is a gift like the seedlings. But we need to do our part so that it grows and flowers. Don't worry if it starts small-just, keep looking after it! 
Fr. Mike R.
Local Santa Ynez Valley Food Resources
"Keep your eyes fixed on the outstretched arms of Christ crucified, let yourself be saved over and over again." Pope Francis
"Jesus keeps knocking on our doors, the doors of our lives. He doesn't do this by magic, with special effects, with flashing lights and fireworks. Jesus keeps knocking on our door in the faces of our brothers and sisters, in the faces of our neighbors, in the faces of those at our side."   Pope Francis