SAVE THE DATE:  A NIGHT IN BETHLEHEM, DECEMBER 2, 6PM IN THE PARISH HALL.
Join us for a Night in Bethlehem! All families are invited to enter into the early life of Jesus ~ to understand what life was like in Bethlehem and why he came to live as one of us. Come for a fun, hands-on, and meaningful event that will help prepare your family for the Advent Season. 

A Message from our Pastor, Fr. Michael Ronayne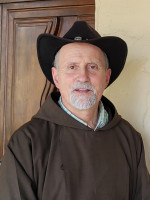 Our Old Mission Family wishes everyone a blessed Advent and a wonderful Thanksgiving. We are so blest here in the Valley. We have much to be thankful for. Today we begin a new year in the Church's calendar. We are grateful that Our Lord wants to "be born"-come anew into our new year. We should be ready and waiting to receive Him. As Isaiah says, House of Jacob, on your feet! Let us walk toward the light of the Lord! Today's Psalm says that we walk joyfully because the Lord is coming. St. Paul tells us to cast off deeds of darkness. St. Matthew reminds us to be on guard. The Lord may come quickly and unexpectedly. By casting off bad habits, participating in Advent activities, and by doing a little extra so that others have reason to be grateful, we do our part to receive Jesus anew in this new year. May the Lord grant everyone a peaceful and grace-filled Advent. 
Fr. Mike R.
Local Santa Ynez Valley Food Resources
"Keep your eyes fixed on the outstretched arms of Christ crucified, let yourself be saved over and over again." Pope Francis
"Jesus keeps knocking on our doors, the doors of our lives. He doesn't do this by magic, with special effects, with flashing lights and fireworks. Jesus keeps knocking on our door in the faces of our brothers and sisters, in the faces of our neighbors, in the faces of those at our side."   Pope Francis