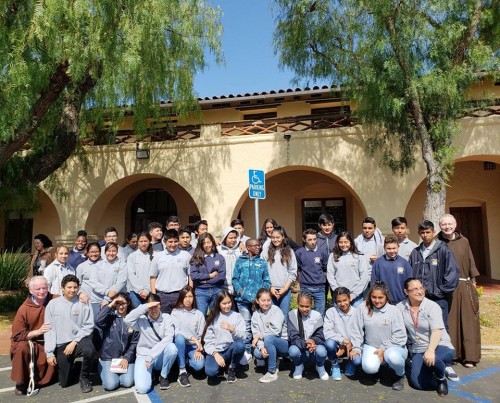 Welcome 8th Grade Students from St. Lawrence Brindisi School and Parish in Watts.
Their retreat was sponsored by The Capuchin Franciscan Vocation Office.
Pentecost Sunday
When the time for Pentecost was fulfilled, they were all in one place together. Pentecost reminds us that amazing things can happen when we are gathered together as church. The Holy Spirit forms us into the Body of Christ and helps us to proclaim our Gospel faith. It is important that we come together to pray and celebrate the great sacrament of the Holy Eucharist. If you know someone who has not been to Church for a while, for whatever reason, why not invite them to join us once more for Sunday Mass? The Spirit can use a sincere and friendly invitation as a moment of grace. Congratulations once more to our children who received their first holy communion on May 12. May the Holy Spirit guide them and all our recently confirmed brothers and sisters as active members of our community and instruments of God's grace for all of us. May the Lord bless and keep you! Fr. Bobby   
Fifty days after Easter Sunday we celebrate the fulfillment of all God's promises in the feast of Pentecost, a feast that has sometimes been called the birthday of the church. One last time we are reminded that we Christians have received the Holy Spirit, not for our own benefit, but to enable us to follow our Christian vocation. The centerpiece of the scriptures for Pentecost is the account in Acts of the Apostles of the sending of the Holy Spirit to the disciples. The other readings for this Sunday help us to understand what it means to live out our Christian vocation. Paul's letter shows us the gifts and fruits that the Holy Spirit gives to us. John's Gospel reminds us that Jesus has sent all his disciples to share his forgiveness and peace, through the power of the Holy Spirit. ALL ARE SENT!
  "Jesus keeps knocking on our doors, the doors of our lives. He doesn't do this by magic, with special effects, with flashing lights and fireworks. Jesus keeps knocking on our door in the faces of our brothers and sisters, in the faces of our neighbors, in the faces of those at our side."   Pope Francis
Participating in the good works of Together in Mission is one way that every Catholic in the Archdiocese of Los Angeles can show their love for their neighbor. Our theme for this 25th anniversary year of Together in Mission is "Let us Love." The love that Jesus calls us to is more than words and more than feelings. Christian love is a call to action. Jesus calls us to open our hearts and extend a helping hand to those who are most vulnerable and most in need.Thank for your generous support of the Together in Mission campaign. May our Blessed Mother watch over you in her tender love and may our gracious God grant you peace and joy and love. Most Reverend José H. Gomez, Archbishop of Los Angeles
"It is not enough to say we are Christians. We must live the faith not only with words but with our actions"  - Pope Francis
@ArchbishopGomez: Friends, we need to practice the corporal and spiritual works of mercy - seeking contact with our Lord through serving others.