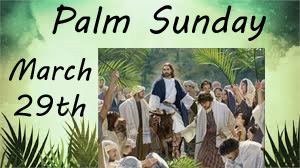 Palm Sunday of the Passion of the Lord is celebrated the Sunday before Easter and it is a holy day of obligation for Catholics.  Palm Sunday commemorates the triumphal entrance of Jesus into Jerusalem (Matthew 21:1-9), when palm branches were placed in his path.
On Palm Sunday the liturgy offers a panoramic view of the mysteries that we will contemplate during Holy Week or Paschal Triduum: the institution of the Eucharist, the passion and death of the Lord, and the prediction of His Resurrection.
Palm Sunday marks the beginning of the final week of Lent and Holy Week - the arrest of Jesus on Holy Thursday and his crucifixion on Good Friday. Holy Week is when we celebrate the mystery of our salvation through Jesus Christ's Death on the Cross for our sins and His Resurrection on Easter Sunday.
Below are photos of the Palm Sunday procession at the 9:30 Mass on March 29, 2015.  Before all Palm Sunday Masses, attendees are instructed to meet in the far edge of the parking lot and walk in procession to the mission church carrying palm branches and singing a song of hosanna or praise such as:  "Glory, praise and honor,O Christ, our Savior-King,To thee in glad Hosannas"