Although Mission Santa Inés was one of the last Missions to be founded, it possesses a remarkably large collection of paintings from the Mission period, as well as a number of statues.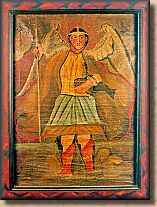 One of the most important paintings is The Archangel Raphael (pictured at right). It is currently on display in the Mission Museum. It is the only Mission-period painting on canvas by a native convert, other than a set of Stations of the Cross housed at another Mission. The painting of Saint Agnes in the Mission Museum was done by Andres Lopez in Mexico City in 1803 and was sent soon after to the Mission.
The fourteen Stations of the Cross in the church are based on an engraved series copied from the church of Santa Maria del Gigho in Venice.
Significant statues at Mission Santa Inés include Saint Agnes in the niche above the main altar, and the Virgin of the Rosary in the area that had previously been a doorway to the cemetery.
The decorations in the church were done under the direction of skilled artisans who had access to old pattern books of neoclassical design. The skillfully executed architectural and floral decorations include the particularly fine floral and Greek key pattern in the sacristy. Designs outside the altar rail appear to have been done by neophyte artists. All the original designs (1818-1820) had survived untouched until they were restored and repainted in the 1970s.
Saint Vibiana, patron saint of the Archdiocese of Los Angeles, oil on canvas, 19th-century Mexican painting.

 

Our Lady of the Rosary, an excellent Mexican Baroque period sculpture from the mid-18th century.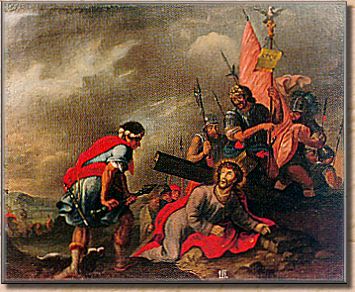 One of fourteen Stations of the Cross paintings in the chapel; late 18th century,
oil on canvas, from the College of Guadalupe at Zacatecas, Mexico.
These murals depicting early Mission life were painted by members of various youth groups under the direction of Paulette Miller and other Santa Ynez-area artists in 1994. They are displayed in the parish hall of Mission Santa Inés.