The Ministry of Hospitality and Community Care of Old Mission Santa Inés was founded in 2007 by women of the parish as a service and outreach ministry to the parish and the community.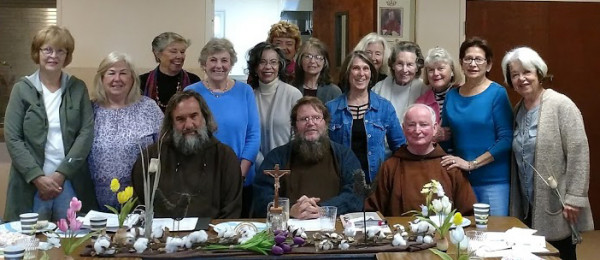 Ministry of Hospitality and Caring at Mission Santa Ines presented Fr. David (Left) with a donation for his missionary work in Yecora, Mexico.  He is truly a selfless priest who has dedicated his life to working with the poor. April 3, 2019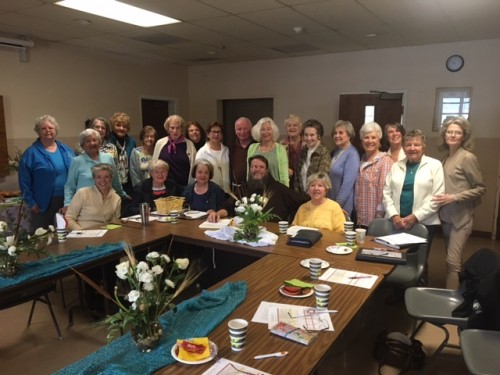 Ministry Meeting - May 2018
Current Ministry of Hospitality and Community Care service activities include:
Greeters who welcome parishioners and visitors to the English Masses on Saturdays and Sundays
Organizing and providing food for funeral receptions
Providing and serving soup at a Parish Lenten Soup Supper
Meals for the sick and bereaved
Coordinate meals for Solvang area residents through the Meals on Wheels program - Marie Tevis tribute for her 35 years of service to this program.
Atterdag Village Mass and Faith Sharing - see below for photos from this ministry
Friendship House Mass and Faith Sharing - see below for photos from this ministry

We offer this Easter story and tribute to honor Flo Hamilton who was a major part of the development of Friendship House and was in residence there when she passed. Her memorial service was at Old Mission Santa Inés on March 27th. It was our honor to host a reception for her family and friends.

See below for photos from this ministry.

Christmas Hand Bell Concert and lunch for residents of Friendship House.  See below for photos of this ministry.
Los Prietos Boys Academy - We provide a Mass for young men once a month in partnership with a small group from Our Lady of Sorrows parish in Santa Barbara. Fr. Peter Banks is the celebrant and Jeff Sgobba provides the liturgy music. Other special projects include Confessions and "Drama Kings"
San Lorenzo Seminary and Novitiate - 

see below for photos of this ministry

Cachuma Lake Cruise and picnic - sponsored by the Vocation Office.
Christmas lunch
July 4th parade
Christmas parade

Welcome New Parishioners ministry not only welcomes those new to the parish but also helps them with information about other ministries and encourages them to become active parish members by joining one or more ministry to serve others.
Rule of St. Benedict : "Let all guests that come be received like Christ Himself, for He will say 'I was a stranger and you took Me in.'
Scared Heart Sisters Celebration - On March 25, 2017, we provided the reception after the Mass of the Sacred Heart for Sr. Elizabeth Normanly who celebrated 50 years and Sr. Paula Sawhill who celebrated 25 years of professed life as Sacred Heart Sisters. Sr. Hannah Barnett renewed her vows in anticipation of final profession in two years. See below for photos of this event and Sr. Elizabeth's Thank You
Below are Rememberance Stories honoring deceased members Betty Jeanette and Flo Hamilton, Ministry news Circle V Ranch Camp Receives Donation from Old Mission Santa Ines Hospitality Ministry and Sr. Elizabeth's Thank You for Sacred Heart Sisters Reception March 2017 and photos of some of our activities and events from our ministries and projects.