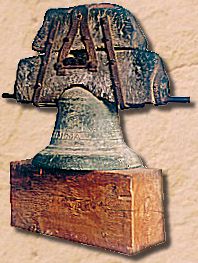 Bells have always played an important role in the life of the Mission, calling early members to prayer or work, marking the time of day, tolling for the deceased, joyfully celebrating the union of marriages, ringing out the traditional Angelus, and noting the end of the day. The bells of Santa Inés have rung out across the valley since September 17, 1804. On that day, a cross was planted and the bell was suspended from a neighboring oak tree. The first bell site was destroyed by the earthquake of 1812.
During 1814 to 1816, a large adobe wall was constructed to hold two bells. New bells were cast in Lima, Peru, and the formal dedication took place on July 4, 1817. The bell wall lasted until 1911 when a huge rainstorm literally melted it. When Father Buckler had it rebuilt the following year, a third bell arch was added.

Today, the Mission museum displays four bells. The 1804 Juan Baptisia bell is the oldest. The Ave Maria Purisima bell (pictured at right) was cast in 1807, and the bell from Lima was cast in 1817. Still hanging in the top arch of the bell wall is the 1818 Lima bell (pictured at left), which was recast in 1953. The 1912 St. Agnes bell was used for the dedication of the new tower that same year. Two new bells were dedicated in 1984.