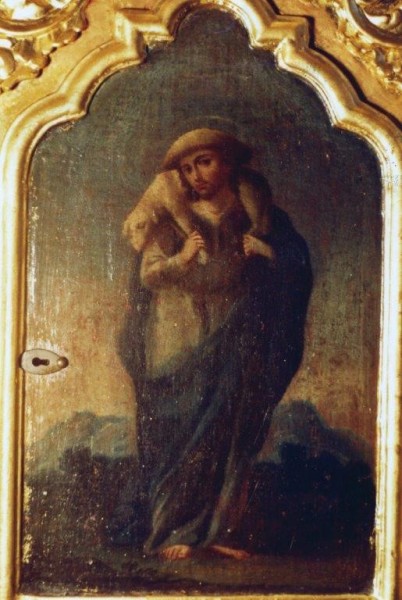 This image titled The Good Shepherd is painted on the door of the church Tabernacle. Following is the Provenance*, which is listed in the following text:
Baer, Kurt. The Treasures of Mission Santa Ines. Fresno, California: Academy of California Church History, 1956. [No. 2, Figure 41 in text, pp 149-150
His remarks are paraphrased in the PastPerfect Museum Software program as follows:
"Little painting is on the door of the Tabernacle. Christ portrayed as a man in his early thirties, stands barefoot dressed in a very full grey-blue cloak or mantle. Behind Him is an expansive landscape with trees and distant hills. Tonality is bluish. Head is turned to the left, eyes are looking straight forward. Over His shoulders is a sheep, its feet held in His hands. The figure wears a straw hat with an upturned brim."
Further remarks in Baer's book, "…it is painted in oils on wood, and though there are some abrasions, the work is in fairly good condition. The elaborate frame is characteristic of the Mexican Baroque…"
* Provenance is a record of ownership of a work of art or an antique, used as a guide to authenticity or quality.