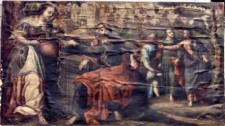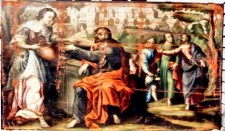 Old Mission Santa Inés Church proudly displays this beautiful Spanish Colonial painting. For over 50 years, this painting of Christ with the Samaritan Woman at the well was tucked away in a closet. It was in such poor condition with paint loss, holes and wrinkles that the wonderful bible story painted in 17th century Mexico could not be displayed. 
Thanks to a generous grant from the California Missions Foundation and the patient skill of the South Coast Fine Arts Conservation Studio in Santa Barbara, the painting now has a place of prominence in the Mission Church.
In anticipation of the 200th anniversary celebration in 2004, several other paintings were restored with the financial help of the California Missions Foundation. Prior to the push to conserve the entire museum collection before 2004, a new security system also funded by the CMF has been installed to assure the collection is enjoyed for many generations to come.
The above photo on the left shows the original condition of the painting.  The above photo on the right shows the conservation and restoration in progress. The photo below shows Victor Bermudez and crew hanging the restored painting in the Church on May 16, 2002.