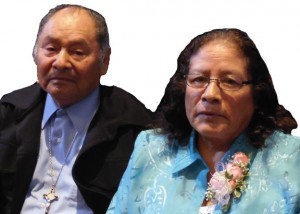 On Sunday, January 31, 2016, the parish celebrated a Mass of Thanksgiving honoring Solomon and Elvira Rojas and the first Guadalupanos in Old Mission Santa Inés.
For over 52 years, Elvira and Salomon have shared their love with the parish through countless works of love and mercy. Elvira and Salomon and with the first Guadalupanos erected the grotto of Our Lady of Guadalupe and make sure that it is well maintained and ready for anyone to spend quiet moments in prayer with our Lady of Guadalupe. The grotto is located on the south side of the mission between the Religous Education building and the outdoor Stations of the Cross.
During this Year of Mercy, Elvira and Salomon and the other Guadalupanos are examples to us that "Love is Always Faithful, Devoted and Perseverant."