Detail of a 17th-century cope made from materials used at the Court of Louis the 14th of France 
from MISSION MUSEUM COLLECTION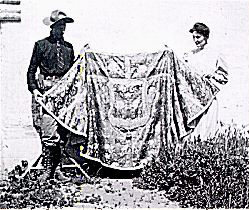 Mamie Goulet and unknown soldier displaying one of the many vestments she restored
from SANTA BARBARA MISSION ARCHIVE-LIBRARY
Mission Santa Inés has the largest and most valuable collection of early California church vestments from the 15th century to 1718. Mission Santa Inés was the depository for vestments from the earlier successful Missions in Baja California and Mexico.
Many of the more than 500 silk vestments throughout the California Missions are in fact older than the Missions themselves.
Father Junipero Serra noted this in 1769 when he collected them from Missions in Baja California. Mission Santa Inés is also fortunate to have among its collection a vestment reputedly worn by Father Serra. 
That the vestments have been so well preserved is a tribute to the work of Mamie Goulet, the niece of Father Alexander Buckler.
The vestments are made of materials such as beautiful oriental silks, with floral designs, satins, damasks, and brocades, which were transformed into Spanish- and Roman-style chasubles. Some have gold or silver flat threads woven into their designs.
Roman-style chasuble of brocaded silk




from MISSION MUSEUM COLLECTION

Vestment reputedly worn by Father Junipero Serra




from MISSION MUSEUM COLLECTION