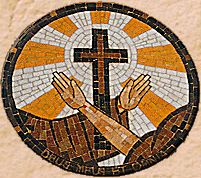 The Capuchin Franciscans are a Roman Catholic religious order of brothers and priests, inspired by the ideals of St. Francis. Francis was a unique and dynamic individual who lived life with a passion for peace, honesty and charity. While society was turning away from Christian values, Francis embraced the message of Christ and lived simply, serving the poor.
The Capuchins were founded in 1528 to keep his dream alive. We came to America in the 19th century to serve poor immigrants looking for a new life. Since then, Capuchin Franciscans have ministered to German, Irish, Italian, and Asian immigrants, Hispanics, Native Americans and African Amercians. Our strength is derived from our rich heritage of contemplative prayer, preaching the Word of God, and caring for those in need In this tradition of service, Capuchins find inspiration and hope. Today, the Capuchins serve throughout the world and are one of the largest religious Orders of men in the Church, with about 12,000 members. Learn more about the work of the Capuchins in the Western American Provence, 
To find out more, visit the The Capuchin Franciscan Vocation Office Website at www.beafriar.com.
Several parishioners are members of Amigos de las Capuchinos, a support group for the Capuchin ministry in Northern Mexico. The group was formed as a way to increase awareness of the Capuchin Mission in Northern Mexico, the culture and spirituality of the people, as well as develop long-term relationships with those to whom the Capuchins in Northern Mexico minister. The Capuchins launched the Amigos de los Capuchinos program with parishes and ministries throughout California and Northern Mexico. 
The people in the villages or northern Mexico have tremendously varied needs (food, medical, sacramental, etc.), and the formation/education of the Mexican student friars who will minister to these people is vital to this community.  The Amigos groups facilitate a greater understanding of daily realities and highlights ways to assist, spiritually and materially.  Paul and Nadine Melancon visited northern Mexico a few years ago and below is a short video of their visit.