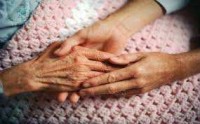 …when I was sick, you visited me— Matthew 25:36
The mission of our beautiful, grace-filled Ministry of Extraordinary Ministers of Holy Communion to the Homebound is to provide a spiritual and sacramental lifeline to sick and homebound parishioners who cannot attend Mass by assisting the priests with the distribution of the Body of Christ. We bring Jesus Christ, in the form of the Most Holy Eucharist to parishioners who are homebound in their homes or assisted living centers, hospitalized or incapacitated in some way so that they are unable to attend mass to receive their Sacraments. Ministry volunteers act as compassionate visitors, offering a vital pastoral link between the Parish and the sick and the homebound.
If you or a loved one are in need of this ministry, contact the parish office at 688-4815 to request this service.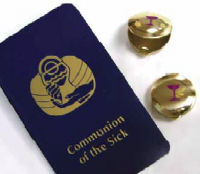 As Extraordinary Ministers of Holy Communion to the Homebound, we take our baptismal call to care for the sick very seriously. We strive to provide comprehensive ministry to the sick, the homebound, and their families during their time of need. Helping the homebound feel that they continue to be part of the Body of Christ and that they remain in communion with us is an important part of our ministry. We strive to be responsive to the needs of those in our Parish who are disabled, sick, or confined to their homes due to temporary or chronic illness, which causes them to miss regularly worshipping with their Parish community,
Our coordinator prepares a schedule of weekly visits for the month and distributes it to the team at the beginning of the month.  Ministers can be scheduled to serve as often as they are available and care is taken to accommodate each person's schedule.
To serve in the Ministry, you must be at least 18 years old and approved for training as Extraordinary Ministers of Holy Communion. Ministry members must be fingerprinted and are subject to a background check in accordance with the Los Angeles Archdiocese requirements. Homebound ministers should be confirmed, in good standing in the Church, 18 years of age, have transportation, and regularly share in the Eucharist. Attendance at a training session is required. A compassionate, caring heart is needed and experience working with and visiting the sick and elderly is a plus. Anyone who works in this ministry receives the blessing of bringing Jesus to those in need. 
If you are interested in learning more about the Ministry to the Sick and Homebound, please contact the parish office at 688-4815.