Solvang, California— Members of the Conference of Charity of St. Vincent de Paul at Old Mission Santa Inés parish and Father Matthew Elshoff, OFM Cap., were honored by the Society of St. Vincent de Paul Los Angles (SVdPLA) during the 7th annual recognition fundraising dinner at the Westin Bonaventure Hotel in downtown Los Angeles on May 24, 2017 (pictured above).
The SVdPLA 2017 recognition award was presented by Allen Lund, President & CEO of The Allen Lund Company, a long-time SVdPLA volunteer leader, to Old Mission Santa Inés Pastor Matthew Elshoff and Mary French, president of the Old Mission Santa Inés Society of St. Vincent de Paul Conference of Charity (pictured at left).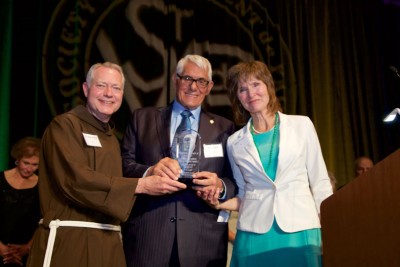 Established in 2000, the Old Mission Santa Inés St. Vincent de Paul Conference of Charity is comprised of more than 34 volunteers known as Vincentians. In his remarks prior to presenting the Society's recognition award, Allen Lund shared about many of the generous works that the Old Mission Santa Inés parish community provide including supporting the Hotline (805-686-9933) where calls are received to help those in need of emotional or financial support for basic necessities such as food, clothing, furniture, appliances or housing as well as connecting to resources. The Christmas Basket program partners with other area churches, organizations, businesses and individuals to provide more than 160 families each year with nourishing food and customized gifts for every family member. The LILLI (Low Interest Loans to Low Income Families) program creatively helps families reduce credit card debt and high interest loans. Bundle Sundays four times each year gather clothing and house wares during to be given to needy or sold at SVdPLA thrift stores to raise money for programs. The Old Mission Santa Inés parish community supports the nearby Circle V Ranch Camp across from Cachuma Lake with volunteers, needed items and scholarships for local children to attend a traditional six day/five nights summer camp. 
In accepting the award,
Old Mission Santa Inés Conference of Charity
President Mary French remarked, "Our mission is simple: with the spirit of love and compassion, we help the needy of any religious background throughout the Santa Ynez Valley. We are so honored to be recognized by the Society of
St. Vincent de Paul Los Angeles
for doing what we have done for the last seventeen years and we are blessed to continue."
Old Mission Santa Inés was established by Franciscan Friars in 1804, the 19th in the chain of 21 California missions. It was entrusted to the care of the Capuchin Franciscan order in 1924 and remains a vibrant parish today with more than 1,400 registered families as well as offering a museum, gardens, religious education classes and community services.
Father Matt, as he is known, serving as Pastor of Old Mission Santa Inés since 2015, was raised in La Canada, California and entered the Capuchin Order in 1973. He completed his undergraduate and graduate degrees from the Dominican School of Philosophy & Theology at Berkeley and also became licensed as Marriage and Family Therapist. Since his ordination in 1982, Father Matt has served in the Western American Province in various ministries including vocation and formation work, teacher and administrator at St. Francis High School in La Canada. He reflected, "I am humbled to represent the parish here tonight at this gala. In the words of Blessed Frederic Ozanam, the founder of the Society of St. Vincent de Paul in 1833, 'One cannot avoid the social issues; because they are formidable, God does not want us to turn them aside. We must lay a bold hand on the core of poverty."
Attended by more than 500 guests, all funds raised at the 2017 SVdPLA Gala evening are earmarked for the Circle V Ranch Camp for camperships (scholarships) for the 95% of the 1,200 children who attend each summer that need financial assistance to do so. Father Matt shared, "We are blessed to have Circle V Ranch Camp so close to Solvang and help many children experience a caring, supportive connection in a place of God's natural beauty."
Those who have needs or are interested in volunteering and becoming members of the Society of St. Vincent de Paul Old Mission Santa Inés Conference of Charity are invited to leave a message for President Mary French at 805-686-9933 or to learn more: http://missionsantaInés.org/society-st-vincent-de-paul
About Circle V Ranch Camp
Founded by the Society of St. Vincent de Paul Los Angeles in 1945, Circle V Ranch Camp & Retreat Center has been located on 30 acres in the Los Padres National Forest in Santa Barbara County's Santa Ynez Valley near Cachuma Lake since 1990 at 2550 Highway 154. During autumn, winter and spring, Circle V facilities are available for rental to other non-profit groups and organizations.  Circle V applications and scholarship requests are now being accepted for 2017 summer camp season. Each of the eight sessions is six days and five nights of traditional, supervised activities for boys and girls ages 7 to 13; and for ages 14-17, a Camper in Leadership Training (CILT) program is available. For more applications and info, visit www.CircleVRanchCamp.org
About the Society of St. Vincent de Paul Los Angeles
Since 1908, this branch of the international Catholic non-profit society provides aid to the hungry, homeless and working poor regardless of race, origin, religion or gender in Los Angeles, Ventura and Santa Barbara counties. More than 2,500 Vincentian volunteers provide financial and emotional support and connections to resources including the Cardinal Manning Center on Skid Row, St. Vincent's Family Housing, winter shelters, thrift stores in Los Angeles and Long Beach and children at the Circle V Ranch Camp near Santa Barbara. For details, access www.svdpla.org
For further information about this article, contact: 
Chris Sariego, St. Vincent de Paul Los Angeles Public Relations Director, 323-774-4912 or csariego@svdpla.org
Or Laura Kath, Community Relations Coordinator, (805) 344-1717 or laura@mariahmarekting.com
www.svdpla.org and http://missionsantaInés.org/society-st-vincent-de-paul