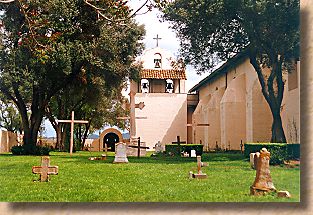 The cemetery is located behind the Mission bell-tower. The first entry in the burial register is dated
January 23, 1805.
The building at the Mission continued from 1804 to 1810. At the end of 1805, Fathers Calzada and Gutierrez reported that another row of buildings similar to the first row constructed before the Mission dedication was constructed. It was 145 feet in length and 19 feet high and wide. In an 1806 report, Fathers Gutierrez and deTaboada stated another row was constructed. This building was 368 feet in length with a corridor covered with tiles to protect the adobe walls from rain. This last building completed the square design which was the typical design for California Missions. Each side of the square measured 350 feet. Within the quadrangle a blacksmith, potters shops, facilities for weaving and basket making, a soap factory and other work areas were built.
New buildings were constructed in 1807 and in 1810 five double houses were built for the soldiers and their families, plus a storehouse and the guardhouse.
In 1812, the population of Chumash at the Mission reaches 718, the highest number throughout the Mission Era. These Chumash included those from Mission Santa Barbara and La Purisima Concepción, who had come to the new Mission to help train the local population.
Changes in the political air soon had their effect on Mission life. After the beginning of the Mexican War of Independence against Spain in 1810, financial support to the missions ceased. The Missions were required to become self-sustaining. Because the soldiers were no longer receiving their salaries and the annual ship from San Blas carrying provisions for the soldiers and their families was also cancelled, the officers at the Presidio made greater demands on the Missions to supply food and clothing to the soldiers and their families. In return, the Missions received IOU receipts.