Old Mission Santa Inés will observe its formal nine-day novena for the Feast of Our Lady of Guadalupe, Patroness of the Americas, from December 4 through 12, 2022 with the recitation of the rosary. Everyone is invited - for more information - contact Ruben Medina at 350-1805.
For more than 50 years Old Mission Santa Inés has been observing this tradition. However, this year the Mission is inviting the public to participate in a new way by emailing their prayer intentions to office@missionsantaines.org or by dropping them off at the parish office. In addition, a votive candle will be lit representing each petition and placed before the statue of Our Lady of Guadalupe. Three large votive candles will be lit to represent the police, firefighters, and residents of the valley. Naturally, you are welcome to participate each night as the rosary will be bilingual. The feast will culminate in the early morning of Monday, December 12, 2022, with prayers and Mass - please refer to the schedule above.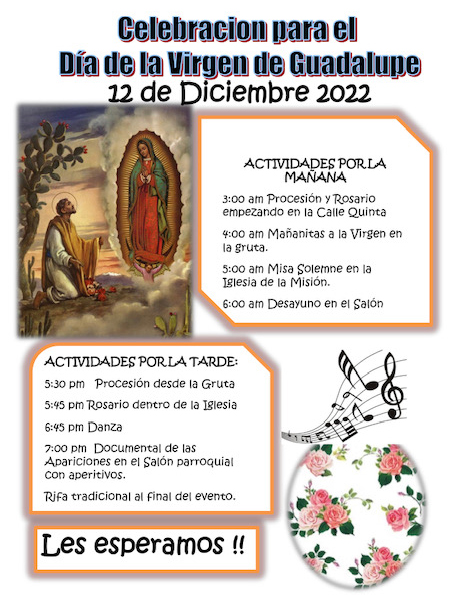 Historically speaking this celebration dates back to 1531 when Mary the Mother of God appeared to St. Juan Diego in Mexico requesting that a church be built to honor her Son, Jesus Christ. When the bishop asked for a sign, Juan Diego presented him with his cloak which was filled with Castilian roses, previously unknown to the region and mysteriously blooming in winter. Upon opening the cloak the image of this "Woman Clothed with the Sun" was miraculously imprinted on it, much to everyone's surprise. The cloak, made of native fiber with a shelf life of 30 years, is miraculously preserved and has been on display at the Basilica of Our Lady of Guadalupe in Mexico City ever since this apparition.
Old Mission Santa Inés, a National Landmark, was founded by the Franciscan Friars in 1804. It has been entrusted to the Capuchin Franciscan Friars since 1924.