Mass Schedule
Daily Mass 
Monday to Saturday, 8:00 AM English
Saturday Vigil
5:00 PM - English
7:00 PM - Spanish & livestream
Sunday Masses
8:00 AM - English
  9:30 AM - English & livestream
11:00 AM - Bilingual
12:30 PM - Spanish
Adoration Chapel/Capilla de Adoración
Monday thru Friday, 7:00 AM – 8:00 PM
Lunes a Viernes, 7:00 AM – 8:00 PM
Weekly Message from our Pastor, Fr. Michael Ronayne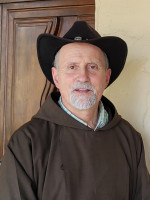 This Thanksgiving weekend focuses us on all the blessings we receive. This Weekend's feast of Christ the King reminds us that Jesus is a compassionate, merciful and all-powerful King. He offers us a full life in this world and life everlasting in paradise. Jesus reminds us of all the wonderful members of his kingdom he brings into our lives.
Aside from friends and family, we think of our faith family at the Old Mission. Our Capuchin Brothers, Sacred Heart Sisters, & dedicated ministers have blessed us abundantly with their talents and testimonies. Our hard-working team maintains our Mission as a beautiful, peaceful sanctuary, and a center of service to the community.
The Lord gives us the gorgeous central coast, our wonderful climate, and so many other graces. On behalf of all of us here at the Old Mission, as we give thanks to the Lord, we give thanks to all of you for being a blessing to us and to our parish community.
May God reward and bless you. May the Lord help us be mindful of His goodness and help us to remain in His good service.  
Fr. Mike Ronayne