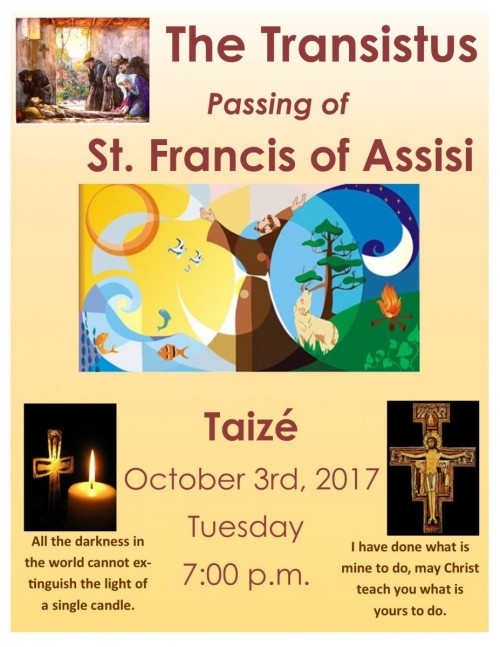 From the blog of Angelo Stagnaro:
Francis of Assisi died Saturday, October 3, 1226. October 4 is the day the Church sets aside to celebrate St. Francis of Assisi's dies natalis — his birth into eternal life. Francis is easily one of the Church's most beloved and venerated saints. Thus, even the vigil of his death is celebrated in style. October 3 is the vigil of his passing over and bears a special name — his Transitus.
The word is derived from the Latin meaning "passage," "crossing" or "going over."
The feast has always been an important part of Franciscan spirituality. Ideally, a Christian shouldn't be afraid of death — or as Francis called it, "Sister Death." Francis faced his own end with what could be described as joyful aplomb. A gentle turning to God in the final, ultimate mystery — the passing over or, should I say, the turning over, of one's soul to its Lover and Author.
A tradition started among Franciscans to commemorate the Transitus by preparing and sharing almond confections to call to mind that Jacoba was a comfort to the saint in his final moments.
In life, St. Francis of Assisi embraced Nature and everything in calling it a Brother or Sister under God — after all, are we not all Creatures made by the one Creator?
He sacramentalized poverty and died owning nothing perfecting the Christian life thus inspiring millions thus giving the Master his investment back a thousand fold. (John 4:38, Mat 25:14-30)
The Transitus specifically remembers the Poor Man of Assisi at his holiness moment — the moment in which he met His God. It calls together the friars, sisters, nuns and secular members of the Franciscan family at which Francis might give us his one, last, perfect lesson.
The few days that remained to him before his passing he spent in praise of God, teaching his beloved companions how to praise Christ with him. As best he could, he broke out in this psalm, With my voice I cried to the Lord. With my voice I beseeched the Lord. He also invited all creatures to the praise of God . . . Even death itself, terrible and hateful to everyone, he exhorted to praise, and going to meet her joyfully, invited her to be his guest, saying: "Welcome, my Sister Death!"
To the brothers he said: "When you see I have come to my end put me out naked on the ground as you saw me naked the day before yesterday. and once I am dead, allow me to lie there for as long as it takes to walk a leisurely mile." The hour came. All the mysteries of Christ were fulfilled in him, and he happily flew off to God. [Thomas of Celano. "The Remembrance of the Desire of a Soul." The Second Book. Chapter CLXIII, p. 388.]
St. Francis of Assisi remains a powerful symbol and voice in the lives of millions of Catholics. At the Transitus celebrations, Catholics who call Francis "friend" come together to remember and take example from his life. Francis is called the "Alter Christus" or "Other Christ" because he gave himself over completely to Jesus and the Cross. He willingly took on Jesus' "light yoke" (Matthew 11:28-30)
In some of the earliest Franciscan documents, the saint's reliance upon prayer and his community as he lay dying:
While he was staying in the palace of the Bishop of Assisi, blessed Francis, realizing that he was getting sicker by the day, had himself carried on a litter to the church of Saint Mary of the Portiuncula. For he wished to give back his soul to God in that place where, as has been said, he first knew the way of truth perfectly. 
Although racked with sickness, blessed Francis praised God with great fervor of spirit and joy of body and soul, and told him: "If I am to die soon, call Brother Angelo and Brother Leo that they may sing to me about Sister Death." Those brothers came to him, and, with many tears, sang the Canticle of Brother Sun and the other creatures of the Lord, which the Saint himself had composed in his illness for the praise of the Lord and the consolation of his own soul and that of others. [Armstrong, Regis J. Francis of Assisi - The Founder: Early Documents, vol. 2 (Francis of Assisi: Early Documents) "The Assisi Compilation." May 1, 2000. #5. pp. 120-121]
Thomas of Celano, Francis' first and some would say, best, biographer, described il Poverino's final moments in his Second Life:
St. Francis spent the last few days before his death in praising the Lord and teaching his companions whom he loved so much to praise Christ with him. He himself, in as far as he was able, broke out with the Psalm: I cry to the Lord with my voice; to the Lord I make loud supplication. He likewise invited all creatures to praise God and, with the words he had composed earlier, he exhorted them to love God. Even death itself, considered by all to be so terrible and hateful, was exhorted to give praise, while he himself, going joyfully to meet it, invited it to make its abode with him. "Welcome," he said, "my Sister Death."