On our Facebook page - You do NOT need to be a member of Facebook to watch
A Message from our Pastor, Fr. Bobby
3-25-2020
Christ Jesus, though he was in the form of God, did not regard equality with God something to be grasped. Rather, he emptied himself, taking the form of a slave, coming in human likeness. How important to remember these words of St. Paul, how essential to our faith. The Word was made flesh; Jesus Christ entered into the messiness of being human, to walk with us through the chaos and once more help us to hear the words: "Let there be Light!" I cannot tell you how long our current crisis will go on, or how it will change the world as we know it. But at the end of all this our call will be the same, to proclaim that Jesus Christ is Lord and to learn to love one another as He loves us. I pray this time of trial will help us to let that message enter even more deeply into our hearts.
I will try each day to give an update and prayer about 8:30 a.m. on Facebook. I will continue to give updates as we receive them. If you have any intentions, or any ideas to help us all go forward as a community in Christ, please let me know. The Lord give you Peace!      Fr. Bobby
Local Santa Ynez Valley Resources for Food
BUELLTON SENIOR CENTER &
ST. MARKS in the VALLEY COMMUNITY KITCHEN
Thanks to the generous donations from local restaurants and Bob's Well Bread, free homemade soup and fresh bread is available for delivery. The soup is being prepared at St. Mark's in the Valley Episcopal Church, and can be brought to your door by Senior Center volunteers. To place an order, please contact Pam Gnekow, Executive Director of the Buellton Senior Center, at either 805-245-3643 or 805-708-4211. If the voicemail is full, please email me at susanmori2@aol.com, and your message will be relayed to Pam."
PEOPLE HELPING PEOPLE - Biweekly Food Distribution ProgramGroceries are distributed to income-qualified individuals and families every other Thursday from 12:00 – 1:00 PM at Mission Santa Inés in Solvang, at 10:00 AM at Creekside Village in Los Alamos, and 1:00 PM at the Buellton Senior Center. Dependent upon household size, approximately 20, 40, or 60 pounds of produce, canned goods, meats, juice, and cereal are provided to clients at each distribution. Please call People Helping People for more information:  (805)588-2572
FOOD DISTRIBUTION SITES for the
SANTA BARBARA COUNTY FOODBANK at:
Bethania Lutheran Church - Tuesday - 4:00 PM and 6:00 PM.
People Helping People-Old Mission Santa Inés-Tuesday, 12pm-2pm
Golden Inn and Village - 4th Monday, 2:30pm-4pm
Church at the Crossroads - 2nd Wednesday, 12pm
Senior Center Los Alamos - 2nd Wednesday, 3pm 
Please DIAL 211 for after-hours support, senior home delivery or other questions.  Or visit the County of Santa Barbara 211 website or Santa Barbara County Foodbank.
COVID-19 Update

(24 March 2020 — 6:30 PM)
The Archdiocese of Los Angeles suspends Masses amid the current health threat due to COVID-19. 
Click here for current updates.
In continued commitment to reducing the spread of the COVID-19, the Archdiocese of Los Angeles announced further liturgical guidelines for Catholic parishes in the Archdiocese, including the closure of all churches to the public until further notice. Click here to read the updated liturgical guidelines. (En español) 
To receive updates on the coronavirus or other ADLA news and information, please visit this webpage or text ADLA to 84576.
Sign up to receive daily Lenten reflections from the Los Angeles Archdiocese. "Keep your eyes fixed on the outstretched arms of Christ crucified, let yourself be saved over and over again." Pope Francis
MASS FOR THE HOMEBOUND
Know someone who is sick or homebound? A livestream is available each Sunday from the Cathedral of Our Lady of Angels. Watch live on YouTube or on the LA Catholics Facebook page (you do not need to be a Facebook member to view the Mass). The English Mass is celebrated at 10:00 AM and the Spanish Mass is celebrated at 12:30 PM.
Mass is also live-streamed from various parishes around the archdiocese. Please view the list here. 
To receive updates on the coronavirus or other ADLA news and information, please visit the Archdiocese webpage LACatholics or text ADLA to 84576.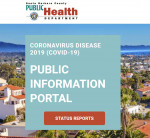 For further updates on Covid-19 - Santa Barbara County Health
"Jesus keeps knocking on our doors, the doors of our lives. He doesn't do this by magic, with special effects, with flashing lights and fireworks. Jesus keeps knocking on our door in the faces of our brothers and sisters, in the faces of our neighbors, in the faces of those at our side."   Pope Francis