Congratulations to Religious Education Kids!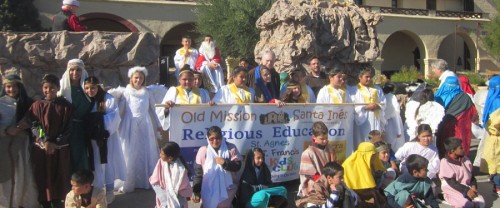 Children from our Religious Education program participated in the Solvang Julefest Parade on December 3rd. Their float "Celebrate Jesus Together" won best of parade.
Their float showed the Nativity of Jesus with Joseph and Mary, an angel and a live baby "Jesus" in a stable in the shape of a cave. Over 60 children from the Religious Education classes and clubs dressed in costumes as shepherds, people of Bethlehem, wisemen and angels and walked behind the float to carry out the theme of celebrating Jesus together. Capuchin friars, brothers, novices; Sacred Heart Sisters religious and Religious Education adult volunteers accompanied the children along the parade route.
The float was created and hand constructed on the bed of a donated flatbed trailer by volunteers from our parish.  
Congratulations to all! Thank you to all adults who supported the Religious Education children by making their experience possible with your help, donations and prayers. Click here to see photos of this event.

December – The Month of Mary's Maternity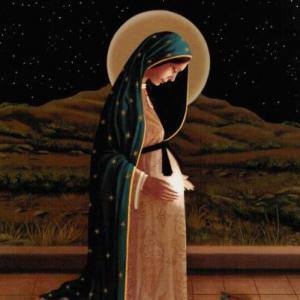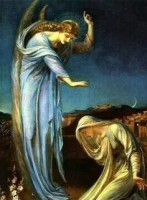 Join us as we celebrate with lights, banners and candles the month dedicated to Mary's Motherhood. This season of Advent (4 weeks before Christmas) is a time of beholding, preparing, watching and rejoicing as we wait for the birth of our savior Jesus Christ with hope, love, joy and peace.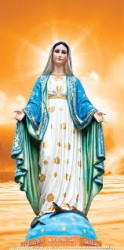 We begin with a novena prayer that will be recited at the 8:00 AM weekday Mass immediately following Holy Communion and at all the Masses on Sunday starting November 30th and ending December 8th, the day of Mary's conception without original sin or The Immaculate Conception. During this novena, we will be praying for our community and nation and especially for the safety of our police and firefighters.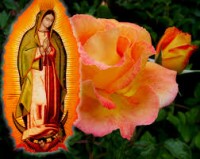 Celebration of her motherhood as the young indigenous virgin who is "with child" begins with a daily novena from December 4th to December 12th with Our Lady of Guadalupe prayers and celebrations. December 12th is a day of celebrating our Blessed Mother as she appeared to St. Juan Diego as Our Lady of Guadalupe.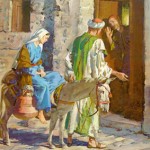 Mary's journey with her husband, Joseph, to Bethlehem is remembered with journeys to local homes, San Lorenzo Seminary and the mission church to renact their journey with daily prayers, singing and music during Las Posadas - December 15th to the 23rd.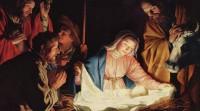 The highlight of the month is the celebration of the birth of her son Jesus, the light of the world. His birth is celebrated with vigils and masses on Christmas Eve - December 24th and Christmas Day - December 25th.
Visit the Calendar of Events for event days and times and more details about each event. All events and novenas are bilingual - all are welcome to join us!  

Christmas Basket Program 2016

The Christmas Basket program is a Santa Ynez Valley community project coordinated by Old Mission Santa Inés and The St. Vincent de Paul Society is designed to reach those who are experiencing the greatest financial challenges at this special season.
The program is open to those families who have minor children (17 years of age and under) that live in the Santa Ynez Valley only (Solvang, Buellton, Los Olivos, Ballard, and Santa Ynez).  Families must demonstrate need, and may not be a participant in any other Christmas or Holiday program.
Baskets must be picked up by the applicant on Saturday Dec. 17th  (NO EXCEPTIONS)
Questions?:  Contact Genevieve Geyser   @ 688-2106 or 452-3140 and Carrie Marable   @  686-0969
"The tenderness of God is present in the lives of all those who attend the sick and understand their needs, with eyes full of love." Pope Francis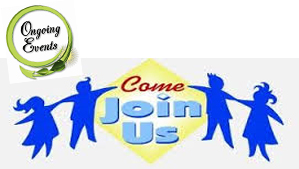 Eagles Wings 
Wednesdays 7:00 PM

Confirmation
Sunday after 5:00 PM Mass

J Serra Junior High Club
Sunday after 5:00 PM Mass

 

Jovenes Adultos 
Friday 7 pm

Jovenes Adolocentes
Tuesday 7: 00-9: 00 pm

Bodas Comunitarias
Friday 7:00 pm

Placitas Bautismales
1st & 3rd Tuesdays 7 pm

Hospitality and Community Care
Breakfast meetings 
First Wednesdays -  Lower Conference Room
Parish Men's Club
Business Meeting:
Monthly - First Monday 7 PM.
Pancake breakfasts: 
Monthly - 3rd Sunday
St. Vincent de Paul Society
2nd Thursday 6:00 PM
Lower Conference Room
4th Thursday 8:30 AM
Classroom B
Mission Book Club
3rd Tuesday
6:30 PM ClassRoom C
 
Grupo de Parejas
Tuesdays 7:00 PM
Danza Azteca Ballet Folklorico Y Xochiquetzal
Twice a month on Mondays

Amigos de los Capuchinos Adoration, Prayer & Music
Wednesdays 10am in the Chapel
Divina Misericordia
Wednesdays 7pm
 
Blessed Sacrament Adoration & Benediction
3rd Thursday of each month
7:00 PM in the church

Grupo de Oración
Thursdays 7pm
 

Divine Mercy Chaplet
7:45 AM Monday - Friday
Madonna Chapel

Divine Mercy Cenacle
Tuesdays in Classroom B
 

Adoration Chapel
Monday thru Friday
6:00 AM - 10:00 PM
Wednesday opens at 5:00 AM
24 Hour Adoration
1st & 3rd Friday/Saturday
Premier Viernes/Sabado cada mes
Healing Mass
4th Thursday of each month
7:00 PM in the church
Adoración del Santísimo
Lunes a Viernes, 6:00 AM - 10:00 PM 
Rosary for Vocations
1:00 PM Monday-Friday
Blessed Sacrament Chapel
Rosary for Life
after 8:00 AM Mass in Church