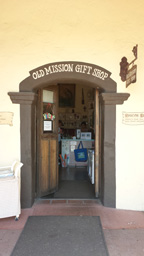 Our Gift Shop has a great selection of gift items, religious articles, jewelry, Bibles, books, Seraphic Mass Cards and many other items.
The Gift Shop is located next to the Museum.  
Gift Shop Hours - 9 am to 4 pm Monday - Saturday
10 am to 4 pm Sunday
Self-Guided Tours - 9 am - 3:30 pm Monday - Saturday
10 am to 3:30 pm Sunday
Gift Shop and Museum are closed New Years Day, Good Friday, Easter, 4th of July, Thanksgiving, Christmas Eve, Christmas, New Year's Eve
Contact the Gift Shop if questions 805 688-4815 xt 231 or giftshop@missionsantaines.org
Below are just a few of the many items that we have in stock. Please call us with any questions.

 Printable Order Form  All items plus tax and shipping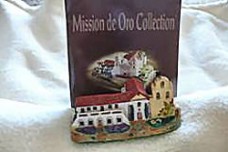 Mission Santa Inés Model
from Mission de Oro Collection 3" w x 1.5" h x 2" d scale replica of the Mission and gardens in cold-cast porcelain. Hand painted and beautifully detailed. Truly a "gem" of the "Hidden Gem of the California Missions".
Price………………………………………..$28.99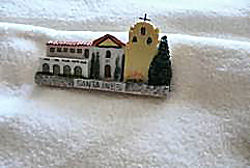 Mission Santa Inés Magnet
 
3" w x 1.5" h x 1/4" d cold-cast porcelain plaque with charming details. Hand-painted. Backed with strong magnet.
Price………………………………………..$13.99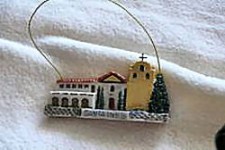 Mission Santa Inés Ornament
3" w x 1.5" h x 1/4" d cold-cast porcelain plaque with cord for hanging. Delightfully hand-painted.
Price………………………………………..$13.99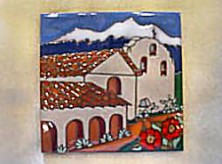 Mission Santa Inés Tile
 
6" x 6" glazed ceramic tile with sturdy back, hole for hanging and cork feet. Very colorful with flowers, Mission bell and snow-capped Santa Ynez Mountains in the background.
Price………………………………………..$36.99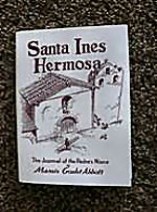 Santa Inés Hermosa: The Journal of the Padre's Niece - by Mamie Goulet Abbott.
 
Mamie Goulet came to Mission Santa Inés in 1904 as a young woman of 23 to keep house for her uncle, Father Alexander Buckler, new pastor of the isolated and nearly ruined Mission. In this 2004 reproduction of her engaging book, originally published in 1951, she describes her exciting life amid crubling walls, storms, wild animals, and colorful characters as the Mission was slowly rebuilt. Amid the hardships, she discovered and repaired a collection of priceless church vestments, some dating to the 15th century, now on display in the Mission Museum. Hardcover with dust jacket, 5.75" w x 8.75" h, 266 pages, 14 black and white drawings and 4 full-page historic photographs; cloth cover reproduces original decorative binding.
Price………………………………………..$18.00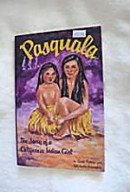 Pasquala: The Story of a California Girl - by Gail Faber and Michele Lasagna.
 
An appealing and educational book telling the story of a Yokuts Indian girl from the Great Central Valley of California in the early 1880's and her introduction to life at a Mission. Combines legend and historical fact. 5.5" w x 8.5" h.   96 pages, 17 black and white illustrations, 2 maps. 4th grade reading level.
Price………………………………………..$12.95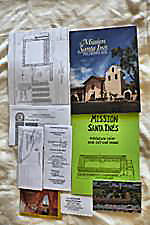 Mission Santa Inés 4th Grade Study Package
 
Includes a full-color, 8.75" w x 11" h. 24-page paperback book, Mission Santa Inés: The Hidden Gem; site plans and visitor brochures; color postcard packet and two loose post cards, one oversize and the other an aerial view of the Mission; links to related websites; and a to-scale (1":58') stiff-paper model that can be colored, cut out and assembled.
Price - Study Package………………………………………..$11.26
Price - Mission Santa Inés: The Hidden Gem Book only………………………………………..$5.95