A Summary of Evangelii Gaudium (Joy of the Gospel):
Pope Francis' First Apostolic Exhortation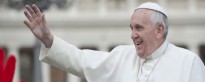 America's Changing Religious Landscape: 
Pew Survey Results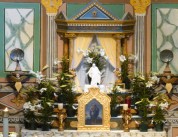 Click image to visit our Photo Gallery of Holy Week events.
Nuestro patrimonio
Old Mission Santa Inés o la "Misión de los pases" es el diecinueve de las veintiuna misiones de California establecidos por los padres franciscanos de 1769 a 1823. La Misión fue fundada el 17 de septiembre 1804 por el Padre Estevan Tapis y fue nombrado en honor de Santa Inés , mártir cristiana del siglo IV. Misión de Santa Inés tiene una rica colección de obras de arte y pinturas, esculturas, vestiduras, manuscritos y artefactos.
La Misión, que goza de una magnífica vista del valle del río Santa Ynez y las sierras de Santa Ynez y San Rafael, juega un papel central en la vida espiritual y social del valle de Santa Ynez como un activo de la iglesia parroquial de Inglés y ministerios hispanos sirviendo muchas familias. La Misión es administrado por el franciscano capuchino orden. Celebramos la misa católica , así como servicios especiales para bautizos , confirmaciones , bodas y funerales . Las Hermanas de la Sociedad Dedicado al Sagrado Corazón conducen nuestras clases de educación religiosa , programas para jóvenes y programas de formación en la fe del adulto .
Visitantes de todo el país y en todo el mundo hacen que la Misión de un "debe ver" parada durante su visita a Solvang. Grupos comunitarios locales utilizan las instalaciones de la Misión para eventos públicos - 4º Rotary Club de la celebración de julio, el evento anual Rancheros Visitadores y Festivales Vintners. Los terrenos de la Misión se utilizan como zona de espera para muchos desfiles y ciclismo u otros eventos.
Hoy continúa el proceso para restaurar, preservar y devolver la " Misión de los pases "a la grandeza de la época de la misión antes de tiempo. Los visitantes son siempre bienvenidos a pasear por los jardines de la misión, tomar un tour de nuestro museo y unirse a los miembros de la parroquia en una celebración misa. Un recorrido grabadas en audio está disponible en nuestra tienda de regalos para guiar a los visitantes a través de las salas del museo, la iglesia y el jardín.
Al visitar este pintoresco Misión, que seas enriquecido espiritualmente por el drama, la historia y la tradición contenida dentro de las paredes y los terrenos de la vieja misión de Santa Inés , llamada "La joya oculta" de las Misiones.