Fourth of July Weekend Mass Schedule
Saturday, July 4
5:00 PM &7:00 PM Masses and Confessions - cancelled this week due to the 4th of July events.
Sunday, July 5
English Masses: 8:00 AM, 9:30 AM, 11:00 AM, 5:00 PM
Spanish Masses: 11:00 AM in the Parish Hall
12:30 PM in the Church.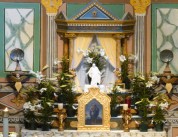 Click image to visit our Photo Gallery of Holy Week events.
Our Heritage
Old Mission Santa Inés or the "Mission of the Passes" is the nineteenth of the twenty-one California Missions established by Franciscan priests from 1769 to 1823. The Mission was founded on September 17, 1804 by Father Estevan Tápis and was named in honor of Saint Agnes, a Christian martyr of the fourth century. Mission Santa Inés has a rich collection of artwork and paintings, statuary, vestments, manuscripts, and artifacts.
The Mission, which commands a superb view of the Santa Ynez River Valley and the Santa Ynez and San Rafael mountain ranges, plays a central role in the spiritual and social life of the Santa Ynez Valley as an active parish church of English and Hispanic ministries serving many families. The Mission is administered by the Capuchin Franciscan order. We celebrate Catholic mass as well as special services for baptisms, confirmations, weddings, and funerals. The Sisters of the Society Devoted to the Sacred Heart lead our religious education classes, youth programs, and adult faith formation programs.
Visitors from around the country and around the world make the Mission a "must see" stop during their visit to Solvang. Local community groups use the Mission facilities for public events - the Rotary Club 4th of July celebration, the annual Rancheros Visitadores event and Vintners Festivals. The Mission grounds are used as the staging area for many parades and cycling or other events.
Today the process continues to restore, preserve, and return the "Mission of the Passes" to the grandeur of the early Mission era. Visitors are always welcome to stroll the mission grounds, take a tour of our museum and join parish members in a Mass celebration. A taped audio tour is available in our gift shop to guide visitors through the Museum rooms, church, and garden.
As you visit this picturesque Mission, may you be enriched spiritually by the drama, history, and tradition contained within the walls and grounds of Old Mission Santa Inés, called "The Hidden Gem" of the Missions.